Hire an employee with a non-EU nationality to work and reside in the Netherlands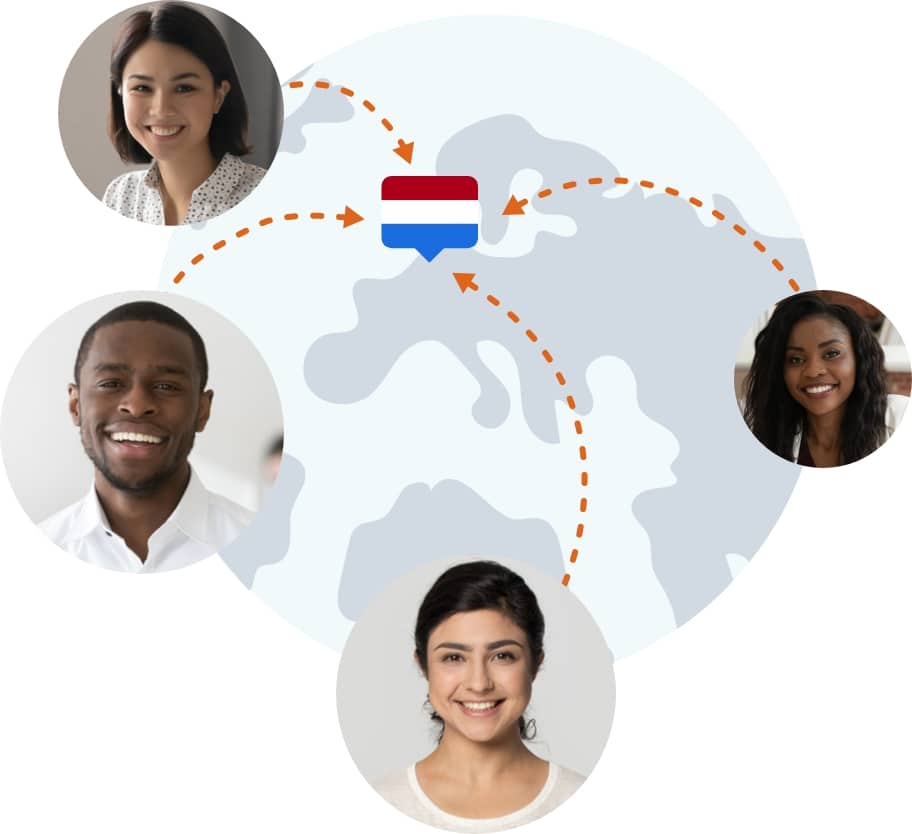 A work and residence permit is required
If your company is situated in the Netherlands and you would like to hire non-EU international talent, a Dutch residence permit should be applied for.
If the international talent you wish to hire already has a Dutch residence permit, we can provide you with one of the following options:
They have a valid Dutch residence permit as a highly skilled migrant. In this case we can become their Employer of Record and the secondment takes place to you as a hirer.
They have a Dutch residence permit and are in their Search Year. In this case, we can become their Employer of Record and the secondment takes place to you as a hirer.
They have a different Dutch residence permit. Please contact us to verify the options.
We can explain the process of obtaining a Dutch residence permit if required.
There are various residence permits awarded in the Netherlands which depend on the specific job carried out. Below we have listed the most common residence permits.
Highly skilled migrant permit
The international talent you want to hire is going to work in a high-level position. Or they are going to work as a (guest) lecturer, trainee doctor or scientific researcher in paid employment. The conditions for hiring a highly skilled migrant are:
They will earn at least a sufficient income. The monthly salary thresholds for 2022 are:

€ 4,840 for employees of 30 years and older.
€ 3,549 for employees younger than 30 years.
€ 2,543 for employees directly employed after a search year or recently graduated at a top 200 university.

The agreed wage is in accordance with market conditions.
The employer must be recognised as a sponsor by the Dutch Immigration and Naturalisation Service (IND).
Recognised sponsors can easily and quickly apply for residence permits for international talent and their family members.
Your company is not a recognised sponsor with the IND
This is not a problem, we can provide you with the solution. MILES is a recognised sponsor and is able to employ your international talent for you, so that they can work and reside in the Netherlands. We become the Employer of Record (EOR) of the talent you have recruited. During the full employment via MILES the employee is exclusively made available to you. Besides, we apply for the necessary permits and 30% ruling. We call this our EOR service for permit holders. If your company would like to become a recognised sponsor, the immigration specialists of LIMES international are pleased to further assist you.
Your company is a recognised sponsor with the IND
If your company is already a recognised sponsor with the IND but you would still like our assistance with applying for the Dutch residence and work permit, the immigration department of LIMES is more than willing to help you. The specialists of LIMES can also help you with applying for the 30% ruling.
Please contact us for further information
Contact us
Permit as an Intra Corporate Transferees (Directive 2014/66/EU)
The employee you want to hire in the Netherlands works at your company which is established outside the European Union (EU) and they are transferred to a branch in the Netherlands.
European blue card
The European blue card is intended for employees who perform highly skilled work within the EU. Specific salary and educational requirements apply. This residence permit should also make it easier for the employee to work in a different EU Member States.
In comparison to applying for the residence and work permit via the highly skilled migrant scheme:
The salary thresholds for 2022 is € 5,670 gross per month, instead of a maximum of € 4,840 of highly skilled migrants.
Your company does, however, not have to be a recognised sponsor with the IND.
Essential start-up personnel permit (pilot)
The employee will work with a start-up in the Netherlands and will have an essential role that helps the start-up grow. The employee will receive a salary and an employee participation in the company.